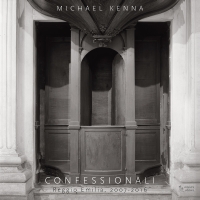 Confessionali, Reggio Emilia 2007-2016
2016
90 Photographs
Published by: Corsiero Editore


'Confessionali' is a departure from the landscape work for which Michael Kenna has become known and is the culmination of over 10-years work, travelling through Reggio Emilia, a city in northern Italy, to document hundreds of Catholic confessional booths.

'Confessionali' is a typology of confessional booths from the 13th century to the present, from a distinct geographical region. Photographed in black and white, each booth is uniformly the focal point of each image, framed by the church interior and including such details as a crucifix, pillar or ladder which offer small clues as to the church's architecture and context in which the booth is placed.

Kenna's careful composition of the booths symbolises what he continues to search for in his photograhy, 'the invisible within the visible, the intangible contained within the tangible, the illusion of reality'. Kenna is not interested in documenting man's physical presence, but rather the traces that have been left behind. Each photograph displays immaculate detail and continues Kenna's ongoing fascination with capturing memories and stories.

This series is greatly influenced by Kenna's religious upbringing. As a child, each week he would visit the dark confessional box in his local church of St. Bede's, Widnes and confess his sins to the local priest. Kenna recalls, "I would feel greatly relieved leaving the church - I was never sure if it was because I was forgiven, or because I didn't have to go through that ritual again for at least another week."