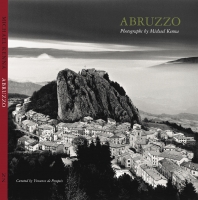 ABRUZZO
2017
65 Photographs
Published by: Nazraeli Press


Abruzzo, located in southern Italy, is known as a 'green region of Europe' because of the system of parks and nature reserves covering more than one-third of its territory. It has one of the highest biodiversity indexes in Europe, and one of the richest areas of flora in the world.

In Abruzzo, Michael Kenna found a cultural identity that elsewhere, for the most part, has been lost to globalization and instant communication. Kenna photographed medieval ruins, ancient villages, and a countryside rich in traditional cultivation. As curator Vincenzo de Pompeis writes in the book's introduction, "Abruzzo's heritage, together with its impressive natural scenery, brings to mind romantic connotations that have a historically attracted many international landscape artists, particularly in the 19th century. Michael Kenna fits into this rich historical vein of celebrated landscape artists who have worked in Abruzzo. Kenna's work often evoked teh influences of Romanticism. In his photographs of historic rural landscapes, for example, tehre is an air of melancholy, which accompanies memories from the past. His images of ruins stir up feelings of passing time, of teh constantly evolving ties between history and nature."

This gorgeous new monograph by renowned landscape photographer Michael Kenna is published to coincide with a major musuem exhibition opening in July 2017 in Loreto Aprutino, Italy. Richly printed in duotone on matt art paper, and presented in an olive-green cloth slipcase with black debossed text on one side and a tipped-in image on the other, Abruzzo presents 65 images from the series, published here for the first time. Abruzzo opens with a bilingual essay by curator Vincenzo de Pompeis. The first printing is limited to 2,500 copies. A special edition of 100 copies, numbered, signed and presented in a custom clamshell box, is also avilable.